Do you have a dinosaur lover?
My little one loves them and plays with her dinosaurs for hours! Sometimes though, it is fun to take playtime a little further.
Here are some  awesome dinosaur activities that little T-Rex's like mine are sure to love!
#1 Make dinosaur eggs
With just a few simple ingredients you can make dinosaur eggs that magically hatch as kids play!  Doesn't that sound so cool?!?  Read on for the recipe.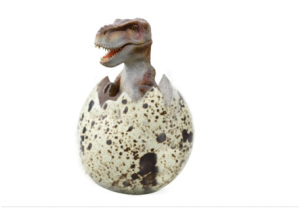 Materials
Miniature dinosaurs
1 large box of baking soda(to make 8-10 eggs)
A large bowl
Water
Vinegar
Food coloring(optional)
Mixing the Dough
Add the baking soda to the bowl.  Add several drops of food coloring if color is desired.  We used brown food coloring to make the eggs look realistic.
Add water in small amounts and mix.  SLOWLY add more water and mix until the desired consistency is reached.  You want the mixture to be damp and mold-able but not too wet.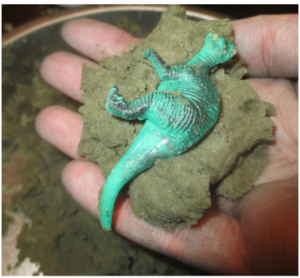 Making the Dinosaur Eggs
Place some of the dough in your hand, and then lay a mini dinosaur on top.  Cover the dinosaur with more of the baking soda mixture and then form it into an egg shape in your hands, tightly securing the dinosaur inside.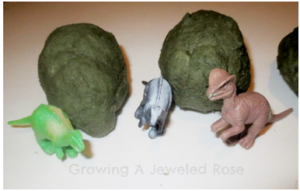 Once you have formed the desired amount of dinosaur eggs lay them on a baking sheet or similar to dry overnight.  The dough dries hard- the end result being perfect dinosaur eggs.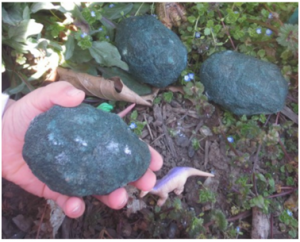 Then arm your kid with a few exploring tools (a magnifying glass, sticks, rocks, and a spray bottle of vinegar.) and let him/her free the dinosaur.
Using the sticks to chisel into the eggs. The sticks work great for freeing dinosaurs! Then spraying the eggs with the vinegar to make them "magically hatch".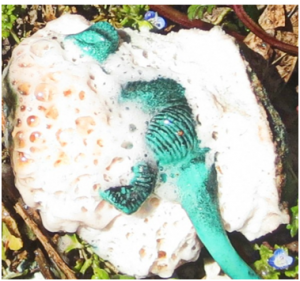 #2 Have kids play and explore with dinosaur ice eggs
It's so easy to prepare and very inexpensive to make too!
You can make these over and over again and the kids will delight EVERY single time!
To make your own you will need:
Balloons (the larger sized ones work best – we used 30cm rounds)
Small Plastic Dinosaur Toys
Water
Food dye (optional)
Hammer
Safety goggles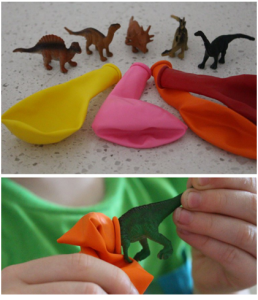 Step 1
Take your toy Dinosaurs and insert them into the balloons…at first this will seem difficult, but once you get onto the second one it's very easy! Just gradually worm the balloon over the Dinosaur ensuring to be a little gentle as you don't want to pierce the balloon with any spiky dino parts.
Step 2
Take your Dino-stuffed balloon and fill it with water!
You can also add a few drops of food coloring at this point for extra effect!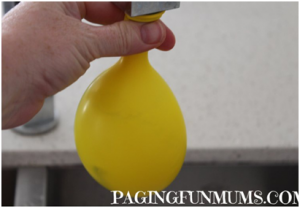 Step 3
Transport your future frozen fossils to the freezer and let them freeze over night.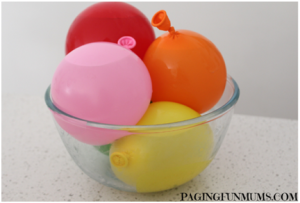 Step 4
Once frozen, pull the balloon off the frozen egg…you might need scissors to get it started, but once it starts coming off, it's really quite easy.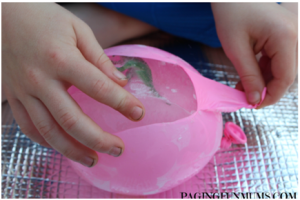 Don't they look cool?? It's almost a shame to SMASH them…except that's where the REAL fun starts!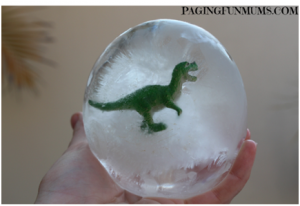 Step 5
Take a hammer and start excavating to get to those Dinosaurs!
Using a standard 'Dad' hammer needs strict instructions, we also recommend using safety goggles (there is no fun in injuries)!
The kids get so excited to retrieve their Dinosaurs after all of their hard work!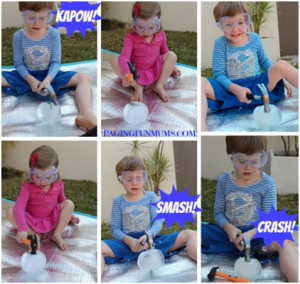 Done! Enjoy hours of creative play!
Sources:
https://www.myjoyfilledlife.com